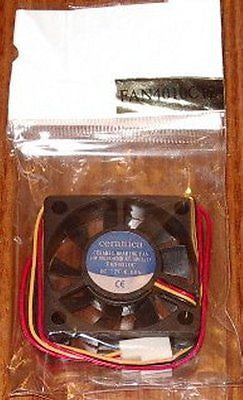 Fast 40mm Computer Equipment, Power Supply Cooling Fan - Part # FAN4010C12H-II
Ceramica 12Volt 40mm High Speed Computer Equipment & Power Supply Cooling Fan.
Part no. FAN4010C12H-II. Similar to FAN4010C12M, FAN4010C12M-II

Suits some computer equipment and cards.

40mm X 40mm X 10mm.

12Volt DC. Ceramic bearings.

High speed 7200RPM, 1.4Watts, 33dBa noise, 7.2cfm.

Comes with 3 pin motherboard plug for connection to equipment.

We have been supplying appliance parts to the trade and retail for over 25 years. Buy with confidence.
---
We Also Recommend