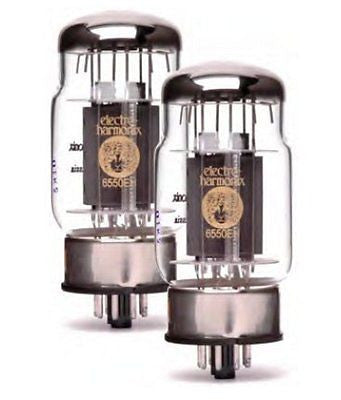 ElectroHarmix Platinum Matched Pair 6550 Audio Output Valves - Part # 6550EHPL
Platinum Matched Pair of 6550EH Audio Output Thermionic Tubes.
Part No. 6550EHPL.

Manufactured by Electro Harmonix.

Octal base. 35Watt output per valve.

The 6550EH offers excellent linearity, power handling capacity, heat dissipation.

Four-pillar construction and mica spacers maintain a rugged mechanical reliability.

Classic tone is sustained at a prolonged, high output.

New leaded glass compound is utilized to maintain vacuum integrity.

This is a very popular power output valve used in many professional bass guitar amplifiers such as Marshall, Ampeg & many others. Used in some Leslie cabinets.
 
We have been supplying appliance parts to the trade and retail for over 25 years. Buy with confidence.
---
We Also Recommend